If you have young kids at home, you've probably wished they would go outside and play more while you got a few things done inside.
Or, is that just me?
Let the kids take full advantage of the unlimited sunshine and FREE boost of Vitamin D to make skin brighter, bones stronger, and even reduce the risk of cancers! Plus, they stay active and healthy instead of spending so much sedentary time in front of screens or building Legos!
Read further for Fun and Cheap Outdoor Activities for Kids that will cost you ZERO DOLLARS but give you PRICELESS BONDING MOMENTS with the kids.
Backyard Fun
Is your dog the only one spending time and having fun in the backyard? Transform your
backyard into a safe and fun-filled area that you and your kids will love. You don't have to go far or spend big in order to have fun.
Try the following fun and cheap activities, and they will never probably want to go back inside the house!
OK . . . maybe that's just wishful thinking! 😀
Lawn Twister – Just like the traditional Twister game, give it a twist with the use of different colored frisbees, sidewalk chalk, or circular painted stencils, arrange them on the game board (you can recycle an old shower curtain for this) and start a whole afternoon of flexible outdoor fun!

Spit the Watermelon Seed Contest – While having a cool afternoon picnic with watermelons, give your kids a challenge by letting them spit out the watermelon seed, and see who can aim the farthest.  To make the game more challenging, they can spit the seeds to a target, like a basin.  The player with the most seeds inside the target wins.
Magic Carpet Ride – Turn your old towels, curtains, or rugs into your kids' favorite toys by letting them ride it across the backyard.  This works well with at least two kids so they can take turns giving each other a magical ride.  It could be played by teams and let each partner pull as fast as they can across the backyard to the finish line.   The downside is that you'll have really dirty towels when you're done!
Amazing Race – With a little advance planning, make use of objects that you have around your house such as ropes, boxes, hoops, tires, and chairs. Put the skills of the kids to test by letting them solve puzzles and give clues that will lead them to the next station with another simple challenge until they finish the race.
Fly a Kite – Teach your kids some skills in aviation by letting them make a kite out of sticks, recycled plastic bags, and thread. Kites can have   Then, it is time to catch the winds and let the kite stay on the air for as long as possible.   They should be able to learn to control the kite so it can avoid light posts and trees.

Back-to-Nature Activities
Are you tired of playing in the yard? The world is big and beautiful; why not go exploring to different places nature has to offer? Foster the naturalist in them by letting them enjoy the beauty of nature, helping them identify the plants and animals they find when you go.
Here are fun and innovative ways to let your kids disconnect from technology and reconnect with nature:
Outdoor Sketching – They say that art can reveal to us the beauty of the natural world.  Who knows, your child could be the next Picasso!  At the basic level, you will need a pencil, paper, and some landscape for inspiration. What better way to just sit down and relax, while your kids are busy with drawing details of nature. You can have a picnic there too! When you get home, you can set up an Art Gallery to showcase the kids' works.
Nature Photography – I'm not talking about requiring the use of DSLR and long lenses.  There are a lot of mobile phones with decent cameras out in the market. Mobile photography is a thing now; let your kids practice their hand at photography by arming them with a camera to capturing the beauty of nature and wildlife in a frame.  Then, you could print the photos or keep them as digital art.
Scavenger Hunt – Brainstorm with your kids all the things they could possibly find outdoors (dandelions, dead leaves, bees, stream, you name it!). You could also be specific with the area that you would like to go to.  When you already have the list of things, have the kids become hunters as they look for those things and cross them out from the list as they find them!
Nature Bingo – A similar concept with scavenger hunt, this time you can prepare bingo cards that you draw out on paper, and your kids can have a scramble to look for the items and cross them out from the card for them to shout, "BINGO!"
Urban Gardening – This activity will let them be occupied the whole summer season.  Making an urban garden will train the kids the science of how to grow and harvest their own organic food. They will develop a sense of love and care for plants as they will have to water them and weed them.  Avocadoes and carrots are easy plants for beginner gardeners to take care of.  Little girls can also grow their own flower garden so they could make their own flower crowns.
Camping and Stargazing – First prepare some star maps by reading them up from Google or you can even download an app that shows the constellations.  Then, spread out some blankets (and a telescope or binoculars if you have). This activity will have to start at night, obviously.  Allow your kids to look for the constellations, or they could make up their own constellations.  An added suggestion would be to light a bonfire and have some smores and popcorn for midnight snacks.
Water Adventure Activities
You're going to agree with me when I say water is the giver of life, right? We are so blessed water is everywhere.  It quenches our thirst, it makes our body move, lets the plants grow, and it allows us to have a lot of fun! Oh, the things that you can benefit from water are limitless!
Let us beat the summer heat with these water adventure activities!  What better way to cool down than to have some splashing, spraying, swimming, squeezing fun!
Take a Trip to the Beach – Going to the beach can easily be every child's favorite.  It's a great opportunity to teach them to swim and brave the waves.  Let them try making sand castles, burying themselves in the sand, or collecting sea shells for future art works.  They also could observe the unique behavior of the beach critters too.
Paper Boat Race – Teach the kids how to make and design their own paper boat. They can use sturdy art papers and paint. Then in a kiddie pool, let your kids be the captain of the ship by arming them with a straw to race the boats and letting them blow the boats to the other end.
Bathing the Dog – Disguise this house chore as a fun sudsy water activity using a garden hose and pet shampoo (make sure it is organic shampoo, so as not to damage your buddy's skin and eyes). What's good about this is that it teaches kids to be responsible dog owners. Plus, giving time and attention to dogs make them feel loved.
Waterworld War – Let the kids build their fortress and prepare their water weapons such as water guns, nerf guns, water balloons, hose, sprinklers, buckets, and pool noodles.  Encourage them to have some strategy on how to attack the other fortress. AND it's time for a water fight!  Just avoid hitting their faces.  The team with the driest clothes and fortress at the end of the game wins.
Sponge Relay – Each kid will need to have a sponge and two buckets – one empty bucket and another one that is filled with water. The kids will have to transfer water into the empty bucket using the sponge. Putting a distance between the two buckets is a good idea so the kids will have to run to them. The winner if the game will be the kids who transfers the water to the next bucket the fastest.
WATCH this video for more ideas on Water Games for Kids:
Get Active!
Kids NEED to burn off all of their energy through physical activities. Why not do this before their energy leads to a bad day for both of you!  When heads get as hot as the weather, try these energy-releasing activities to keep your kids' energy in control while they are having fun.
Play sports – While playing sports clearly train kids in mind and body coordination, it can also teach us values like patience, determination, and cooperation. Family favorites are volleyball (you can let kids use water balloons or beach balls), badminton, and frisbee.   You can even invite your neighbors over to join the sports.
Mini-Golf Course – Gather things from around your house like ropes, cardboard boxes, shoe boxes, and ropes to arrange for your own golf course. Then get your golf ball and let the kids be a junior Tiger Woods as they play in a mini-golf course tournament.
 Dance Showdown – Make a play list of danceable music and set up the stage, lights, and the music speakers.  An impromptu dance showdown allows the kids to let loose as they express themselves creatively through movements and music.  Don't forget to record their performance in your camera! 
Plan a Treasure Hunt – For this activity, you will need a homemade map that follows your neighborhood. At the end of their adventure, the kids will find "buried treasure", which could be any simple prize. 
Hopscotch – Although this game has been around for decades, and was played by our grandmother's mothers when they were kids themselves, it hasn't lost its charm, and can still be enjoyed by the present generation.  This game is very simple: Just draw your hopscotch board on the street using sidewalk chalk and have each player a marker which could be a pebble, a stick, or a coin. 
Tag – Another oldie but goodie game, tag comes in many forms. The Classic Tag is played by tagging a person to become an "it".  The Freeze Tag is played by freezing the tagged players until they are saved by those not yet tagged. The Tunnel Tag is when a person tagged must stand with legs apart until another player crawls through them.
Community Activities
Spread the fun by organizing summer activities that your kids, along with the whole community, can enjoy!
23.         Lead them to a local playground – With a slide, a see-saw and a BIG open space – this is more than enough for their feet to run free and their creativity go wild.  Kids of all ages can get a lot of exercise, meet new friends and play as many different games as they could possibly come up with.  To make it more fun, let them play group games like Tag or Hide-and-Seek while making new friends
Photo: pixabay.com
Car Wash Fundraising – Have the kids clean up passing cars and tricycles so they could raise money that they could donate to the local charity.
Bike Parade – Organize a community parade of bikes.  Encourage those who will participate to decorate their bikes with flaglets, balloons, or streamers. Have the kids bike around with the parents cheering them as they pass.
Photo: pixabay.com
Outdoor Movie Night – Play the kids' favorite movies by setting up an outdoor movie theater. You can rent a projector and set up a white screen on an open area in your neighborhood. You can spread out some blankets and chairs for the viewers.  Of course, a movie will not be complete without some popcorn and drinks.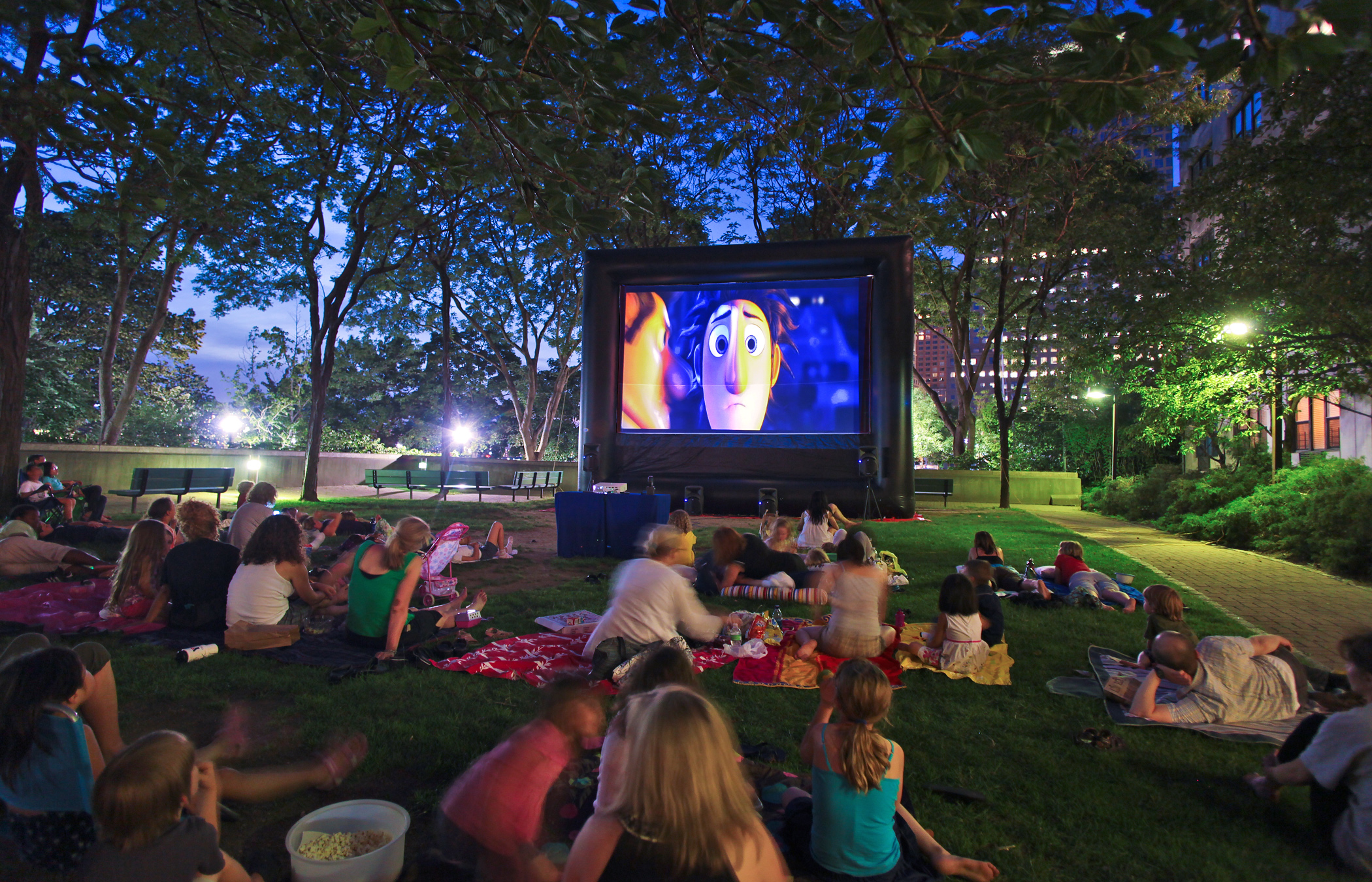 Basketball/Baseball League – Start a sports league with the teams from the kids in the neighborhood.  Kids can have practice sessions and a culmination tournament.
Start making memories with these cheap and fun outdoor activities for kids when the weather is nice.  Enjoy these moments!
Do you have your own ideas for outdoor activities? I'd love to hear them; please share it in the comments!