Your relationship with your grandkids can be one of the best relationships they will have their entire lives. If the parents are the disciplinarians, you are the spoilers.  The parents are the villains, you are the heroes.  Parents say "No", you say "Yes". You get the picture! 🙂
Grandparents have so much love and wisdom to pass on to grandchildren when they're together! Whether you're looking for ideas while you're out of town or you're a grandparent planning a fun day, this list of things all kids should do with their grandparents is full of fun and educational activities!  Read on!
Read a favorite childhood book together
Some grandparents may shy away from technology but fret not, as kids nowadays, no matter the digital age, still love an old book. Read them their favorite book, use silly voices, act out the scenes, and this activity will be a hit. Who knows, they might forget about their gadgets and look forward to more reading time with Grandpa and Grandma.
Cook / Bake together
How many kids do you know that rave about Grandma's cooking? After all, it was probably Grandma who taught Mommy how to cook all their favorite foods! Ask your kids what their favorite food is and let them be Grandma's sous-chef for the day. It will be fun to cook and bake together and even more fun to eat it together afterwards. 🙂
Go on a Nature Walk
Who says walking is boring? Walking is a lot of fun as it allows both kids and grandparents to talk, bond and take in the surrounding environment. It's great exercise too!
You can take a notebook and do leaf rubbings, collect flowers to dry when you get back, or just imagine shapes in the clouds as you walk.
How about starting with easy hiking trails that lead to waterfalls? Sounds great, right? If you are near us in Alabama, make sure to check AlabamaWaterfalls.com for a list of kid-friendly hiking trails to waterfalls. They'll love playing in the water at the end of their hike! 🙂
Arts and Crafts
No one is too young or too old for arts and crafts. Everyone enjoys it so just give your grandkids a few ideas to get started and let them choose the materials they want to use.
Let their imaginations fly!
It can be painting one day, puppet-making the next, clay molding, bead making, and a whole lot more. The kids can even draw Grandpa and Grandma and vice versa. You can even hide them until you're finished for the big reveal at the end!
Movie Date
Movie watching has always been a family thing, and with good movies left and right, it's easy to pick one and let everybody watch. It doesn't even have to be in the theater. They can just stay at home, choose a movie from Netflix or Disney, make some popcorn, and the experience will be just as enjoyable and more flexible!
Share a Hobby
Sharing a hobby is like sharing a part of yourself. This can also bridge the age gap between kids and grandparents and allow you both to be part of the other's world for a short time. Kids can teach their grandparents all about slime-making while Grandma, on the other hand, can teach them to knit or cook while Grandpa can take them fishing.
Puzzles and Board Games
Puzzles and board games never get old. No matter the age, anyone can have a good time playing puzzles or board games. It can be the classic favorites like monopoly or chess, or new ones like designing a maze with magnetic tiles and blocks. Take your pick!
Interview each other and record it
Grandparents love it when they get to know their grandkids better. And one fun way to do that is by interviewing each other and recording it. You will be amazed at some of the answers that kids come up with!
Here are a few questions to get started with:
What do you want to be when you grow up?
What's the favorite thing you do with your mom?
Tell me about the first day we met.
Who's your bestfriend and why?
If you owned a candy store, what would be your favorite candy to sell and why?
Just look at some of these cute answers!
What do you want to be when you grow up? – A little girl answered, "a princess!". Don't we all? 🙂
What's the favorite thing you do with mom? – One answered, "snuggle her". <3 And another answered, "when I make her buy me stuff". 🙂
For more adorable answers, watch this!
Bring out old family photos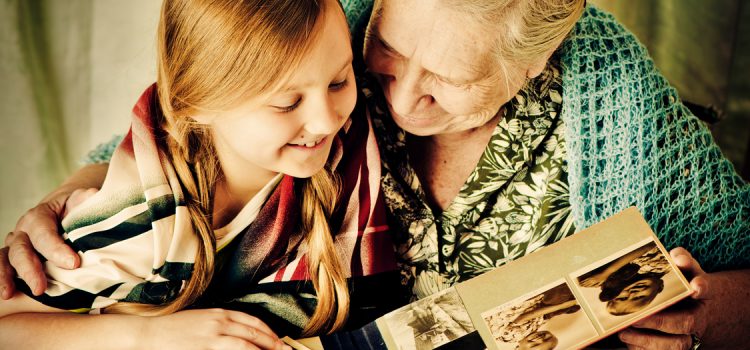 It's always fun to share old family photos or home movies and talk about the past. It's their chance to get a glimpse of their parent's childhood and see what their parents looked like when they were their age.
Would they recognize them? How was life different then than it is now? 🙂
This is a great way to give them an appreciation for some of the amenities we have now!
Scavenger Hunt
If the grandkids like the outdoors, a scavenger hunt must be on the list then. Let the parents hide the clues and let you and the kids find them together.
And if the weather isn't nice, this is one that you can do inside just as easily. You just have to set it up when they're not paying attention!
Do a Science Experiment
You are never too young or too old to explore the world you live in. And one way to do that is by conducting science experiments. It's not only fun but sure is a way for kids to learn and discover more.
Give one of these experiments a try:
Building the Tallest Tower
This experiment uses everyday items that can be found in your homes like Legos and rubber ball. Chances are these are the favorite of your kids. The objective is really simple: build the tallest tower using Legos, rubber balls and a 3-ring binder then test its "shakeability" or if the height will affect the building's stability.
Create your own volcano or lava
This one is a classic. Wow your kids with their own lava lamp or volcanoes. Just add some food coloring to water and olive oil then add little pieces of Alka-Seltzer and voila, you have your very own lava lamp. Another classic is a volcano where you just have to mix vinegar and baking soda.  Easy, right?
Make an indoor fort
Every kid has done this for sure! And yes kids, us grandparents did too! It will be fun to create one together and read inside or play pretend after. An indoor teepee tent can do the job too.
A few pillows, sheets or blankets, and string or chairs to support it all is all you need!