As a mom, decorating your kid's room is exciting. From designing the room to choosing the colors to picking the furniture, it really is exciting. Not just for my kids, but maybe even more for me! Do you feel that way too? 🙂
In this post, we'll share some of the theme and decor ideas we love for our toddlers. We want their room to be fun yet functional, and cool yet comfortable. Make sure to involve your kids from the planning stage because as toddlers, they are slowly beginning to assert themselves and let you know what they want. You'll sometimes be surprised at how good their ideas are!
NAUTICAL THEMED ROOM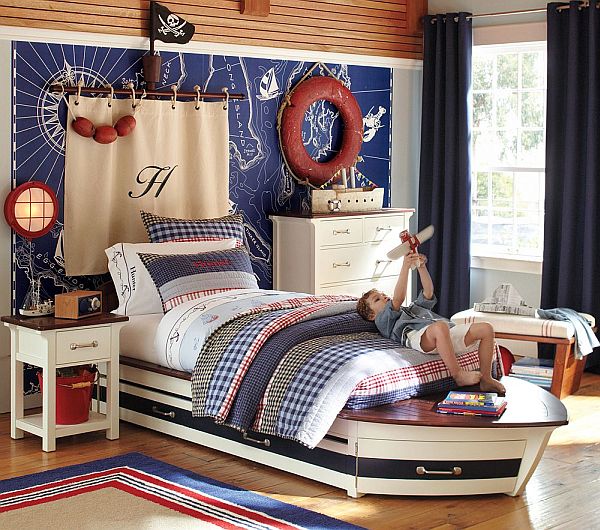 Source: https://cdn.decoist.com/
For your little kid who loves the water, a nautical themed room is a sure hit!  Check out the decors you can use to achieve this look.
Fun Headboard
Your toddler's "graduation" from the crib to a big kid's bed could be celebrated by choosing a fun and cool headboard. This nautical theme room and sail-like headboard is so beautiful and perfect for your little boy who loves the water.

Shelves
This one is a must! Let's face it, it serves so many purpose that it might be a mom's favorite piece of furniture in their kid's room. It can store books and toys and art supplies and more. To liven it up, you can have it customized in the shape they want – a spaceship shelf even. You can also add bins or storage boxes where your toddlers can keep their toys after using them (hey, a mom can dream right?)
SAFARI THEMED ROOM
All kids love animals and a safari themed room definitely adds to the excitement of having a new room.  It's like being in a jungle with your favorite animals everyday!
Decorative Lights
This one is a hit with my daughter. We put a flower light with hanging butterflies on one side of her room and a sun light on the other, and she loved it! For your boys, you can look for lights with hanging airplanes or football-like ceiling lights. Or how about these neutral hanging animals? Cool too, right? Totally functional yet fun!

Source: www.lighting.philips.co.uk
Wall Murals
Wall Murals are your answer to sprucing up your toddler's room.  Drawing and painting with your toddlers are a fun way to decorate with them.  Seeing that they are part of the painting process will make them love it even more.
Just be sure to have lots of drop cloths!
Stuffed Jungle Animal Set Teepee Decoration
This felt Jungle Animal Set can not only be used as decor for your teepee tents, but can also be used as decor in your kid's room. The internal magnets let you hang these in different areas of the room, like curtains, magnetic boards and other surfaces where magnets can stick. These are not only cute to look at but can teach your toddlers animals and even enhance their creative minds when playing with them.

FAIRY THEMED ROOM
Every little girl has dreamt of being a princess or a fairy. You can never go wrong with this theme for your little girls.  Throw some pixie dust around and let your decor magic begin!
String Lights
Hang string lights in your daughter's room for that whimsical feel.  You can try our star string lights and hang it in your child's bedroom so she can pretend to sleep under the stars.   Or try our white lantern string lights for that added fairy light.
Wall Decals
Decals are your easy answer to those bare walls.  They are peel and stick, so it's very easy to use.  Let your kids choose the design and help them stick it to their walls.  If your toddler gets tired of the design or outgrows it, you can simply remove it without having to repaint your walls.
Custom Garland
For that added personal touch, you can also decorate your toddler's room using our Custom Garland Kit. It is 100% wool felt and you can choose your own color and letters, perfect to brand their room as their own. You can also use our Alphabet Garlands and Felt Ball Garland to decorate too.

TRANSPORTATION THEMED ROOM
Now, this room is a dream room for every kid who loves everything with wheels or that flies.  From cars to trucks to trains to planes and helicopters — this will thrill your future mechanic, driver and pilot.
Table Lamp
Lighting fixtures are an important element of decorating a room. It contributes to the overall ambiance and mood for the room.  It is also great for your bookworms who want to read before turning in for the night.
Storage Box
Now, this piece of furniture may be my favorite.  It keeps the clutter away but can also serve as a bench in your kid's room.  This sure is an easy and fun way to teach them how to clean up at the end of the day.
PRINCESS THEMED ROOM
Chances are every little girl you meet loves being a princess.  That is like the ultimate dream for them. So why not turn that dream into reality by giving them a princess themed room.  Just add some pinks and glitter and you are done. 🙂
Throw Pillows
You can never have enough pillows in a room.  Put them on top of their beds, on top of their room chair or even on the floor.  
Bed
Having a carriage shaped bed is the closest you can get to having a perfect princess themed room. Nothing says "princess" like a carriage shaped bed!  Who knows it might encourage your little one to go to bed early. 😉
Canopy
Yes, this piece of clothing can literally and magically transform any room into a room fit for your little princess.
ROBOT THEMED ROOM
For your little one who loves tinkering with all kinds of stuff, this theme would be perfect for his room.  
Carpet / Rug
You can place a rug or a small carpet at the bottom of your kid's bed or in a corner near his toys to serve as his play area.    
SPACE THEMED ROOM

For your future astronaut or scientist, this theme is perfect.  Not only is it a feast for the eyes but can stimulate your little one's imagination as well.  
Wall Poster / Sticker
A wall poster or sticker can be the focal point of your kid's room.  It brings life to the room and, at the same time, can be educational too.  So, make sure that you pick a design that your little is really interested in!
Glow in the Dark Wall / Ceiling Decal
These decals will be a hit for your kid. He'll have lots of fun just staring at it at night and letting his imagination run wild.