Now, who here doesn't love sidewalk chalk? It's so classic that I'm sure you have fond memories from your childhood with it. Just imagine having a big canvas (okay, okay just your driveway) and the numerous things your child (and you of course!) can draw in it without you telling them to stop it. Sounds exciting! 🙂
Let's give our creative side the spotlight here, should we? So, what will we draw?
Something Educational
Sidewalk Action Game
This one, is a personal favorite. Write a number of letters on the sidewalk and let your kid step on it while doing something that begins with that particular letter. D for drawing on the sidewalk? 😉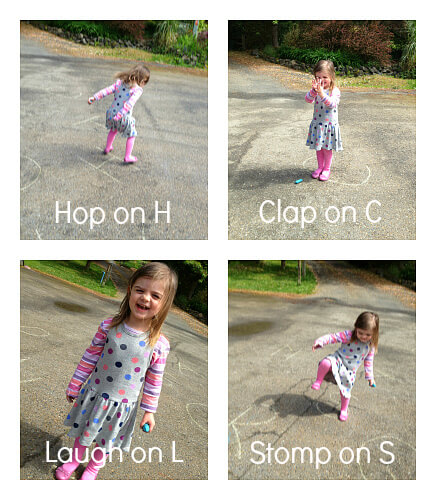 Alphabet Hopscotch
This is a fun way to teach young ones how to master the alphabet. Start with A and work your way up to Z, writing some random letters in between to create some confusion. Your kid should be able to navigate his way through the correct sequence of letters.
Clock Game
Learn how to tell time with a giant sidewalk chalk. Just draw a clock and let your kid draw the hands of the clock according to the time you want.
Sidewalk Simon
A twist to the classic Simon game. Just let your kid pick their favorite colors, draw a Simon board, and shout the colors. Your kid should run/jump to the color you'll say. Learning colors sure is fun.
Something Dreamy
For the following photos, all you need are your chalks and camera!
Up Up and Away
Just draw some balloons (any maybe some clouds) and position your kids like they're holding the balloons, and snap that picture!
Rain, Rain Go Away
Now is your chance to let your kids play in the "rain". Fun guaranteed!
Fly Superhero, Fly
Every little kid I know has dreamed of becoming a superhero or at the very least, flying. Now is their chance to fly high over buildings or mountains or even alongside planes.
Beach, Here We Come
Dreaming of the beach? Yup, us too!
Something Fun
Sidewalk Twister
Playing twister outside is fun too!
Mini Golf / Mini Hockey
You don't need to travel to play mini golf or hockey. Your kids can play it right outside your home!
Sidewalk Pictionary
Classic game that children of all ages can really enjoy.
Water Balloon Target
Summertime can be all the time with this game. Think of it as like playing darts, just with water balloons and a bigger target. 🙂
How about you, what's your favorite sidewalk chalk activity?